The Broadberry hosts a variety of music and levels of entertainment. The venue also acts as the main headquarters to The Broadberry Ent. Group. You can find full list of all venues and show schedules HERE.

All shows are all ages unless otherwise noted. General Admission and limited VIP Section and table reservations are available when you click the ticket icon for your desired event. Email [email protected] with questions or inquiries.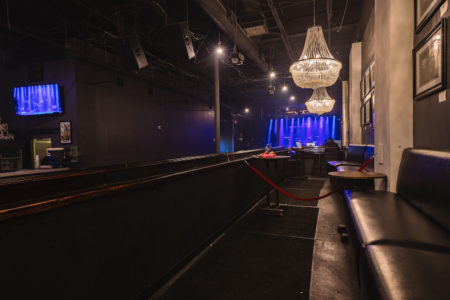 Seating is typically available along our sixty foot bar and other tables at first come first serve. There are no assigned ticketed seating, this is considered a standing room only venue unless you reserve and/or upgrade to VIP after the purchase of your ticket.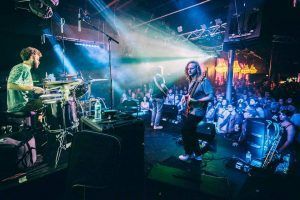 The Broadberry is available for a variety of private events. Email [email protected] to set up a venue tour and to get a quote. Our events page provides additional information about the venue including catering menus and FAQ's pertaining specifically to private parties, corporate events, and receptions. We do it all!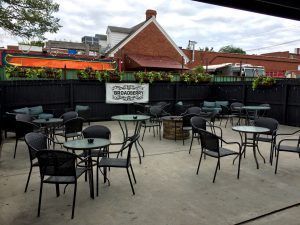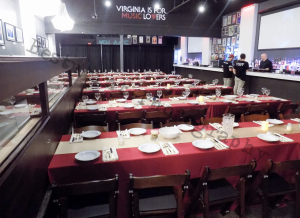 Booking
If you are a band interested in playing at The Broadberry, please contact [email protected].  Due to the large amount of booking inquiries, we appreciate your patience as we do our best to respond to everyone. 
Production Info
Working stage area – 18'w x 13.5'/17'd x 3'h, 7.5′ trim from lowest hanging light.  8.5′ from mains stage right and left. 10.5'Lx24″W ramp stage right for amp/road case load on/off. Furnished green room directly off stage left with keypad lockable hall access and pocket door, stage level access. Storage available in green room, upstage left cubby, and above monitor world upstage right. Second Green Room behind monitor world for support, or for gear storage.
FoH:
1 – Midas m32 connected to stage via shielded Cat5e cable
6 – Martin Torus T1215 Tops
4 – Martin SXC115 subs
2 – Martin IK42 Amplifiers
Monitors:
1 – Midas M32
1 – Midas DL32 digital snake
1 – Seismic Audio Passive 32ch split snake
6 – JBL SRX812
3 – Crown XLi3500 amplifiers

2 – EV ELX 112p

3 – EV ELX 115p
2 – EV ZXA1 subs
1 – QSC KW181 sub
Microphones:
4 – Shure SM58
4 – Shure SM57
2 – Shure Beta 58a
2 – Shure Beta 57a
1 – Shure KSM137
2 – Shure SM81
2 – Shure Beta 52
2 – Shure Beta 87a
1 –  Shure Beta 91a
2 – Audix D6
1 – Audix i5
6 – Sennheiser e609
6 – Sennheiser e604
3 – Sennheiser e935
2 – Sennheiser XS 835 Wireless Handheld Mic
1 – Sennheiser XSW 35 Wireless Handheld Mic
2 – Audio Technica Pro 37
16 – Tall mic stands with tripod base and boom
6 – Short mic stands with tripod base and boom
2 – Straight mic stands, round base
2 – Desktop mic stands with boom
10 – Livewire DI boxes
6 – Radial JDI
Lights:
The Broadberry uses a Chamsys MagicQ Pro Wing controller and corresponding software. A comprehensive diagram of our stage lighting layout can be found here.  A list of all DMX addresses/profiles for all fixtures can be found at the link below.  There is a DMX cable that runs from the FoH booth to the stage left truss for a guest LD to run their own lights on a separate univer